I'm not sure if you're already familiar with Spotify or not. It is one of the numerous options available to listen to music – on your phone, PC, tablet. (It's free with ads/paid for ad-free).
I'm always looking for the ideal channel to tune into on Spotify for just the right music to work and be productive. It's hit or miss a lot of the time. You might like one song, but not the next 20. (But I'm too lazy to do a few extra clicks to change it up.)
Lately, I've discovered a random and interesting genre on Spotify called 'Word' (at the very bottom of the options under 'Browse'). It is so intriguing… When trying to focus on work, you can't really listen to and absorb it all, but it's nice to have on in the background to take some of your mind off the mundane. Check it out: https://open.spotify.com/genre/word.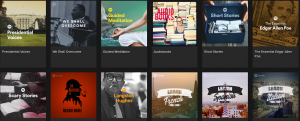 The Spotify Word playlists are eclectic and unique – poetry, speeches, stories, meditation, self help, foreign languages, vintage radio, children's stories, presidential voices and more. They have specific writers featured in some playlists as well – Shakespeare, Bronte, Jane Austen, Noam Chomsky, Emily Dickinson… You can learn what you might have missed in high school English!
The voice actors can be varied, dramatic and entertaining. A few times I've tuned into the Shakespeare poetry playlist and got entranced in it. It's nearly impossible to comprehend what is being said, but it transports you to another place in time. Then, at random, you start speaking in Old English to your colleagues.
I highly recommend exploring it for yourself. Play some for the children in your life for good measure. It's truly a fun and passive learning experience.
Save
Save