If you love to discover new indie music, you should check out my cousin's band AdrienneO. They are an electro-pop band out of Denver and have a new album out – SUPERCHROMATIC. You can listen to their awesome tunes on Soundcloud – my favorite songs are Two and Two and Innocence. You can play them over and over again and get them stuck in your head very easily (in a good way)! What's really cool is that they recorded the songs at random locations around Denver, including closets, apartments and the studio.
AdrienneO is comprised of Adrienne Osborn, sultry lead vocalist and bass; Justin Leighton Long, lead guitar; and Craig DeLeone, drummer. Their lyrics are poetic and beautiful; like from Two and Two: 
"The broken world is ours to gain / We play our music loud as pain / Off balance in a fearless kiss / We hope it always feels like this."
Their unique style of music has been described as:
"AdrienneO's sound features alternatively seductive and powerful vocals, reminding listeners of a cross between Blondie and Natalie Merchant. Justin's guitar playing evokes the Edge while he retains alt-rock grit. A clean, hooked-up rhythm section and subtle but creative use of electronic textures and loops all come together to allow the band to deliver well-written, well-arranged electro-rock songs with one of the freshest sounds in Colorado." – AdrienneO.com
When I spoke to Adrienne about the making of SUPERCHROMATIC, she described the challenging creative and logistical undertaking it was for the band. They did almost everything on their own on the album, from songwriting to recording to production. The only work they had done outside the band was the mixing and mastering!
"Since I split time between Boulder and Denver, I kept carrying my entire recording setup back and forth every week, so parts of this album are recorded in a bathroom in Boulder, parts are recorded in a closet in Denver, and some, like the shaker and tambourine, were recorded at 2 a.m. in a Denver studio apartment.  Strangely, I never got any noise complaints.

It was pretty amazing to step back after it was all done, and realize that we did it all ourselves.  And especially to realize that I recorded or played everything on this album myself except for bass on Solid Ground, and all the drums and guitar.  I didn't know how to record vocals on my own as little as three years ago, and didn't know how to use Logic until about two years ago, so it's pretty amazing to realize how far both I and the band have come in the year since we formed. But already we feel like we have better songs in the works.  We can't wait to start recording again!" – Adrienne Osborn
The big AdrienneO EP Release Party is scheduled for Friday, July 19th at 7:oo p.m. MDT in Littleton, Colorado. Even if you're not in the Denver area, you can download a FREE digital version of SUPERCHROMATIC anytime on Bandcamp. If you go to the concert, be sure to say hi to Adrienne for me – I so wish I could see her live on stage!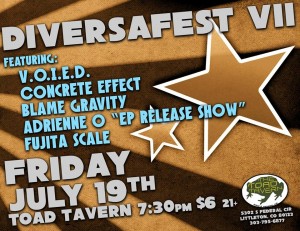 Go to the Facebook event page for more details and discounted concert tickets.
Be sure to LIKE the band while you're at it.