When we were in Larvik, Norway, we were able to go see Tainted Souls in concert. They were playing live at Murphy's in Sandefjord and had taken their fans from Oslo to/from the concert in a big party bus. I'm psyched my cousin Heidi was able to come with us and we could share some beers and good conversation. It was also cool to meet so many fun and interesting new people!
Tainted Souls' band members:
Morten Duesund – Vocals
Bjørn Skallerud – Guitars
Rune Kristensen – Bass
Tor Arne Berg – Drums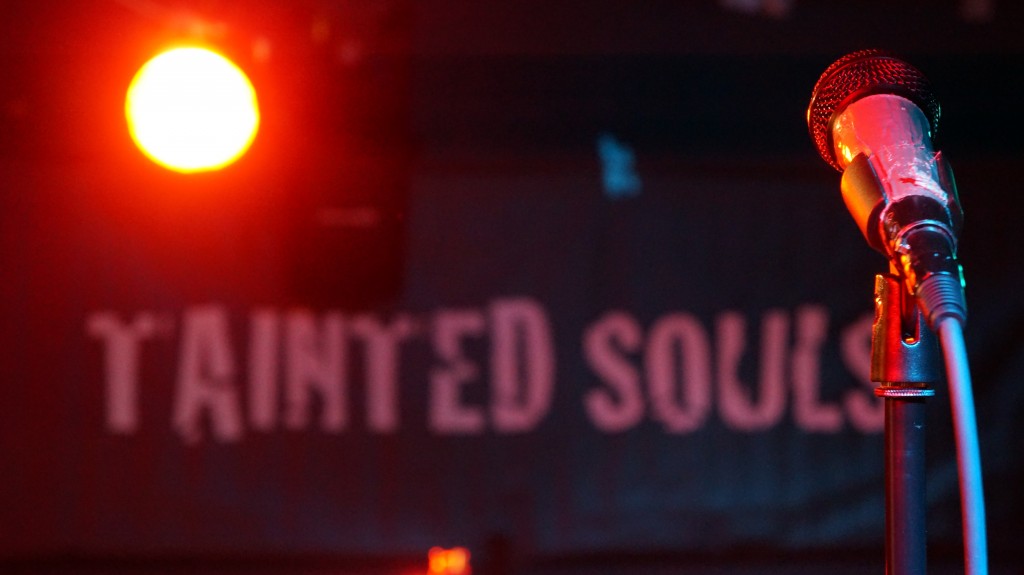 Tainted Souls Concert; Sandefjord, Norway.
We got there well before the concert began, so we were able to hang out and meet the band and their friends, family and fans. Everyone was extremely cool and we had a great time, first having tapas at Da Vinci's across the street and then at Murphy's Irish Pub for drinks. Murphy's was a cool pub with a lot of space to mingle and hang out. At the same time the band was setting up, there was an awesome birthday party going on for a girl named Pia, and everyone was dressed from in 1920s flapper era attire. They were all extremely attractive and having a blast. Sorry I didn't get a picture of it; you'll have to trust me that it was a sight.
As a side note, you will never see Jonathan go to a bar and drink an unleaded Coke; there would usually be Jack Daniels in there with just a splash of Coke. However, in Norway, the DUI laws are very serious (.2% BAL) and he adhered to the law that evening. I was happy that I wasn't the D.D. and that Heidi was with us too, because she was familiar with the area and there was a lot of road construction and closures. I would have gotten us lost and mangled if I were driving with only the assistance of Google Maps.
I had given Morten, the lead singer, a Surfrider Foundation Newport Beach Chapter t-shirt as his wife's a surfer and I want to bring Surfrider to Norway. It was cool that he wore the shirt on stage! During set up, there was an issue with the sound system, so there was some band angst in calling in some back up help, but the crew got it worked out and the band sounded great. It was a very interactive and engaging concert! Morten chatted it up with the crowd between songs and the fans sang along and took lots of photos and videos throughout. He'd even brought Pia, the birthday girl, up on stage to sing Happy Birthday to her! I'd listened to their CD Mercury Mind several times before the trip, so I was familiar with the catchy songs and they did several cool cover songs as well. My favorite was Chris Isaac's "Wicked Game" – it's a classic and they performed it well.
See more photos from Murphy's Irish Pub and other concerts in their website's concert gallery. You should also keep up with them on their Facebook and Twitter. They'll be playing in Southern California early September 2013, so make sure to save the date if you're on the west coast.
In my next and final post in my Norwegian travel writing series, I'll cover our last four days in Norway, which we spent in the beautiful mountain town of Lillehammer, Norway's Olympic city. Read about it here.