Perusing through the FREE section outside the public library, I stumbled upon a stellar find. A Learn French record collection from 1959!! Who in the right mind could resist taking it home?!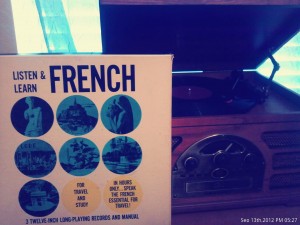 The alternating voices of the male French teacher and the female who parrots the French phrases back are classic 1950s, reminiscent of the Mad Men era.
"Where is the dance club? Ou est la discotheque?" Female parrot: "Ou est la discotheque?" The French sounds extremely proper and upscale compared to the French instruction I had in high school and college. Perhaps I will be to  conduct French lessons from my home office with these dandy records.
In all seriousness, I absolutely LOVE my Crosley record player. My last few purchases of music records at Urban Outfitter (Bon Iver and Adele) have also included a free digital download of the entire album, so it's the obvious choice to buy the record. They look and sound amazing, bringing real character into the home office.
---